== NOTE: The maximum weight the lift can handle is 600 pounds, for chair AND person.
Our shuttles are red and white, with Leisure Time boldly emblazoned on every side.
There will be three shuttle buses (Blue, Green, and Purple) which will run between our various sites during Dragon Con as well as an Aquarium Shuttle that will run on Saturday, September 5th.. The buses run approximately every 30–45 minutes and will display Dragon Con logos. There will also be a Parade route on Saturday, Sep 5th that will run from 8am - Noon. After Noon the Blue, Green, and Purple buses will resume their normal schedule. All routes are serviced by ADA compliant buses. Please see below for specfic informaiton. IMPORTANT NOTES:*Shuttle Buses will NOT run to Midtown, Airport, and some Downtown hotels. Please see specific routes above to verify if your hotel has a stop on the bus route..
There is dedicated Aquarium Shuttle Bus that will run on Saturday, September 5th from 6pm- Midnight.
On Saturday, September 5, 2015 several downtown streets will be barricaded during the parade.  We will run a special parade shuttle from 8am-12pm.  Because of the closed off streets, The Blue, Green, and Purple shuttles will not run during this time, but will all resume normal operation after the parade at 12pm. *The Parade Shuttle will stop at the following hotels: Stops – Sheraton, Marriott, North Avenue Presbyterian, Crowne Plaza, Hyatt House, AmericasMart 2, Hilton Garden Inn, Embassy Suites Atlanta,
Omni, Glenn, Holiday Inn Express, Ritz-Carlton
All routes are serviced by ADA compliant buses.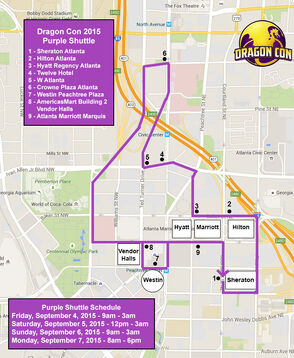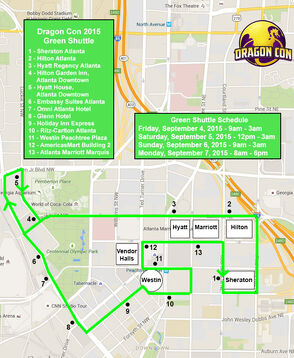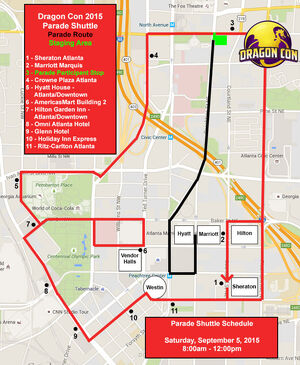 Ad blocker interference detected!
Wikia is a free-to-use site that makes money from advertising. We have a modified experience for viewers using ad blockers

Wikia is not accessible if you've made further modifications. Remove the custom ad blocker rule(s) and the page will load as expected.